NatSCA Conservation Twitter Conference
#NatSCAConservation
19th - 21st January 2021
NatSCA is hosting a Twitter conference promoting projects and stories relating to the conservation of natural history collections. The theme is as diverse as the field of natural history itself, from storage projects, new materials and applications, and tricky remedial projects.
Join us for this great opportunity to explore conservation work relating to the range of natural materials, this year we're bringing it all, right to you, for free!
Follow #NatSCAConservation over the three days to learn more about the projects featured in our diverse programme, meet our speakers, share and join in through the hashtag, and say a digital hello to the wonderful online NatSCA community. Each presentation will be delivered over an hour-long time slot where they will be delivered over a series of tweets, and then available for questions and comment.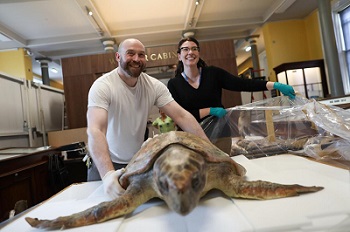 For those not on Twitter, we'll be compiling all the talks and making them available after the event.
Download the full programme and abstracts here
Programme Day 1: January 19th, 2020

10am – 11am From Wall to Shelf – Adventures in decanting the Dead Zoo
Silvia Da Rocha, Gina Eichmueller and Paolo Viscardi
National Museum of Ireland – Natural History
@DublinDeadZoo

11am – 12pm Fluid preserved collections at the Cole Museum of Zoology: Care and maintenance as they move from display into storage
Claire Smith - Cole Museum of Zoology
@wetconservatrix

12pm – 1pm A Whole Different Bearskin: Using natural history conservation techniques to restore a Napoleonic cap
Lucie Mascord ACR - Lancashire Conservation Studios & Freelance Conservator
@LuceGraham

1pm – 2pm The Conservation of Coral: cleaning techniques for cnidarian collections
Natalie Jones - University Museum of Zoology Cambridge
@nautilusnat

2pm – 3pm Well puffed: conservation of two porcupine fish using silk tissue
Lu Allington-Jones - Natural History Museum, London
@AllingtonJones

Programme Day 2: January 20th, 2020

10am – 11am Stuffed not Silent: A Study of Social Media as a Tool for Engaging with Taxidermy
Gracie Price - Cardiff University Conservation Department
@magnifyzoology

11am – 12pm Taxidermy appearance: Re-colouring a Eurasian Otter specimen an ethical and practical consideration
Jen Grossman - Cardiff University Conservation Department
@jen_gossman

12pm – 1pm Conservation issues of botanical wet collections
Marion Dangeon, Laura Brambilla - Haute Ecole Arc Conservation-restauration
@liquor_project

1pm – 2pm Using Japanese Paper on Fish Mounting Conservation
Eleri Paatsi - Estonian Museum of Natural History
@NHM_Estonia

2pm – 3pm The case of the donated collection of rodents (Ctenomys) to the Félix de Azara Natural History Foundation
Stella Maris Alvarez - Fundación de Historia Natural Félix de Azara. CONICET
@StellaM3436Sur

Programme Day 3: January 21st, 2020

10am – 11am Displaying Deep Sea Invertebrates: a technique for mounting smaller fluid preserved specimens
Natalie Jones - University Museum of Zoology Cambridge
@nautilusnat

11am – 12pm Silk and Ivory: Conserving a Brisé Fan
Daisy Graham - Freelance Textile Conservator
@DaisyGr34037223

12pm – 1pm The application of Lascaux in the restoration of taxidermy and entomology collections
Bethany Palumbo ACR - Palumbo Conservation Service
@bethany_bug

1pm – 2pm Japanese tissue repair of 100 plus butterflies crushed by broken glass
Simon Moore ACR – Freelance Conservator
Delivered through @Nat_SCA